Where Do Raccoons Live Map
Where Do Raccoons Live? Raccoon Range and Raccoon Habitat
Raccoons are found throughout most parts of the United States and southern Canada. They also occur in South America i.e. from Mexico to its northern areas. Apart from the U.S., they were also introduced in various other continents i.e. Europe and Asia. Now let's take a deep dive into the animal's range and habitat and find out where do raccoons live in United States, Canada, Europe and other parts of the world.
Where Do Raccoons Live in the World – Raccoon Range
Raccoons are native to the United States. They are normally found throughout the continent, except for few states. Apart from Procyon lotor (North American or Common raccoon), the remaining six species occur all over Central, South and North America. Besides, they are also found in the Caribbean Islands. The common raccoon is found from Canada to Panama.
Raccoons in Europe
Outside the United States, raccoons were introduced in various countries across the world. In the 1930s, the Soviet Union and Germany imported these mammals. Some of the other European countries where they occur today include West Germany, France, Luxembourg and the Netherlands.
Today, the largest number of raccoons in the world (outside the U.S.) exists in Germany. In Europe, the German city called Kassel (at the northern Hasse) holds the densest population of raccoons i.e. every square kilometer hosts 50 to 150 raccoons. Likewise, they are also present in good numbers in northern France.
In Asia, they were successfully introduced in Japan as well.
Image copyright Wayne Wetherbee
Where Do Raccoons Live in Canada
In Canada, raccoons live throughout the country, except Labrador and Newfoundland. With time, as more and more area is cleared, the range of these mammals expand toward the north.
Raccoon Habitat
Raccoons do not restrict themselves to any specific habitat. Instead, they often occupy variety of habitats thanks to their ability to adapt perfectly to the surroundings. Since raccoons are extremely adaptable animals, they tend to occur in grasslands as well as tropical areas. Moreover, they are one of the few animals that also thrive on urban settings, including farmlands and suburbans.
These mammals inhabit swamps, forested areas and agricultural lands. Normally, they den in abandoned holes of trees and attic of urban houses. But they are mostly found living near ponds in moist woodlands.
Like us, they also require water, shelter and food sources to occupy any habitat. However, they usually prefer living in floodplain forests, marshes and hardwood swamps. They can also thrive on prairies and farmlands.
The range of these animals expands with the availability of food as well as growing number of people in a particular area. In winter when the food is in short supply, they move back to their dens and sleep for longer periods to conserve energy.
Image copyright Richard T.
The specific kind of habitat also determines raccoon population in a certain area. In agricultural areas, there are almost 5 to 10 raccoons in every square kilometer. On the contrary, each square kilometer in urban areas holds up to 100 raccoons.
Generally, raccoons do not prefer living in the open terrain. The winter denning of these mammals occurs mostly on hollow trees and logs. In places where such dens are unavailable, raccoons live in abandoned burrows of other mammals.
They seem to have little fear of humans which is why they usually settle in urban areas. In Canada and the U.S., they are present in suburbs like Toronto, Washington and Chicago. They are also found in Albuquerque, a city in the state of New Mexico. In the cities, the denning sites of raccoons occur in the nearby forested areas.
Since raccoons are nocturnal animals, they are rarely visible in daytime. For that reason, most people are curious about where do raccoons go during the day? Do they go to sleep in daylight hours or remain active and search for food all day long?
animalsanswers.com
Where Do Raccoons Live?
Generally speaking, raccoons tend to favor wooded areas close to water, often making their dens in trees and logs. However, they can also be found in a variety of other habitats, from prairies to marshes and even cities, wherever there is a ready source of food.
Raccoons are common throughout the United States, although they are rare in the desert regions of Nevada, Utah and Arizona as well as some parts of the Rocky Mountains. They can also be found in Mexico, Central America and southern parts of Canada.
Unless the mother raccoon is caring for her young, raccoons tend to be solitary creatures, living and hunting alone.
www.reference.com
Where Do Raccoons Live?
Raccoons may look cute and cuddly, but behind those friendly faces are destructive creatures that can ruin gardens and crops, cause damage to home and property and potentially be a danger to pets and children. Raccoons are savage fighters with sharp teeth and piercing claws, and they will eat just about anything they can find. If you spot a raccoon wandering around your suburban town or even an urban city neighborhood, you may find yourself wondering, exactly where do raccoons live in the city? After all, these invaders are surely not pet raccoons who just happen to have given their owners the slip in order to do some nightly foraging.
Inside the city limits may not seem like an optimal place for a raccoon to live, but they certainly don't seem to mind it. Raccoons typically look for places to call home near bodies of water and prefer areas that have lots of trees to use as dens. However, with the spread of urban and suburban areas, raccoons have adapted well to city life. They will often live just outside city limits and travel through storm drains and sewers to find trash cans and dumpsters that provide easy meals.
Because of the variety of foods that a raccoon will eat, they are found just about everywhere in North America. Raccoons don't discriminate in the types of fare they feast on. They will eat aquatic animals such as frogs and crayfish from streams and ponds, fruits and vegetables from gardens and farms and scraps from trash cans and city dumpsters.
Where Do Raccoons Sleep?
Raccoons are opportunistic creatures when it comes to where they sleep. Most raccoons seem to prefer sleeping in large holes in trees or hollow parts of fallen logs. They also find shelter in abandoned cars, attics, crawl spaces, barns, and sheds.
Raccoons change dens frequently, sometimes moving on to a new den every night. A raccoon may live in a tree one night and relocate to a cozy spot in your attic the next night. During breeding season and harsh winter conditions, however, they will opt to remain hunkered down in their den for more extended stays.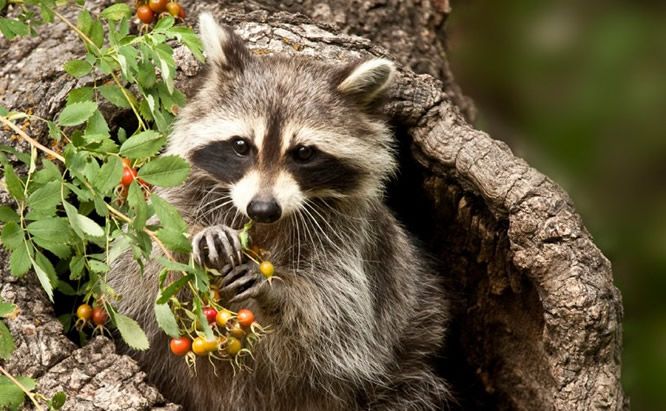 Do Raccoons Live in Trees?
Raccoons are excellent climbers, making tree dens an optimal location. Mothers who are raising their young will typically find a high tree hole away from predators. Juvenile raccoons live in trees for a few months with their mother until they can forage for food on their own.
What to Do If You Find a Raccoon in Your Backyard
The arrival of spring means the emergence of raccoons from wintering locations and into many backyards across North America. Raccoons eat incessantly during the spring and summer months in order to store body fat for the winter, when food sources may not be as abundant. If you spot raccoons in your area, it may be necessary to remove all potential food sources from your property:
Move trash inside or lock trash can lids securely in place.
Protect your garden by placing raccoon repellent around your garden perimeter.
Seal or barricade any holes or crevices in your house that could possibly lead raccoons to find shelter in your attic, basement or shed.
Raccoons are very persistent animals, so they may need to be humanely removed from your property and relocated out of the area using a raccoon trap.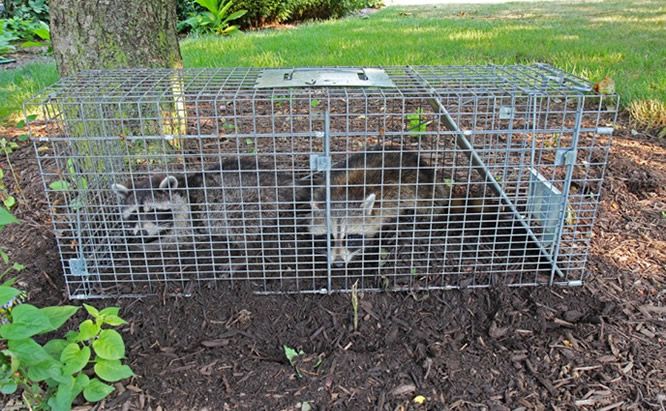 Need Advice?
Are you having issues with invading raccoons on your property? Contact our customer service center at 1-855-5-HAVAHART or ask online for advice on keeping your attic, trash cans and garden free of destructive raccoons. You can also find more tips and tricks on our Havahart® Facebook page. We would love for you to share your own experiences with our community.
For more great resources and exclusive updates on Havahart® products, subscribe to our eNewsletter.
www.havahart.com
Raccoon Nation — Raccoon Facts
Class: Mammalia
Order: Carnivora
Family: Procyonidae
Genus: Procyon
Species: Procyon lotor
Size and Weight: The adult raccoon is a medium-sized mammal and the largest of the Procyonidae family. It averages 24 to 38 inches in length and can weigh between 14 to 23 lbs., or more, depending upon habitat and available food. The male raccoon, or boar, is slightly larger than the female, also referred to as sow. The young are called kits.
Physical Features: The mask of black fur that covers its eyes is its most characteristic and familiar feature. One hypothesis for the dark fur is that it may help reduce glare and enhance the nocturnal animal's night vision. The species has grayish brown fur, almost 90% of which is dense underfur to insulate the animal against the cold. Five to eight light and dark rings alternate on its tail. Because its hind legs are longer than the front legs, a raccoon often appears hunched when they walk or run. The five toes on a raccoon's front paws are extremely dexterous, functioning essentially as five little fingers which allow it to grasp and manipulate food it finds in the wild as well as a variety of other objects, including doorknobs, jars, and latches. A raccoon's most heightened sense is its sense of touch. It has very sensitive front paws and this sensitivity increases underwater. When able, a raccoon will examine objects in water.
Life span: In the wild, a raccoon has a life expectancy of about 2 to 3 years, but in captivity a raccoon can live up to 20 years.
Diet: The raccoon is an omnivorous and opportunistic eater, with its diet determined heavily by its environment. Common foods include fruits, plants, nuts, berries, insects, rodents, frogs, eggs, and crayfish. In urban environments, the animal often sifts through garbage for food. The majority of its diet consists of invertebrates and plant foods.
Geography: The raccoon is native to North America and can be found throughout the United States, except for parts of the Rocky Mountains, and southwestern states like Nevada, Utah, and Arizona. It can also be found in parts of Canada, Mexico and the northern-most regions of South America. During the 20 th century, the species was introduced to other parts of the globe, and now has an extensive presence in countries like Germany, Russia, and Japan.
Habitat: Originally raccoons lived in the tropics where they could be found foraging along riverbanks. Over time they moved north up the continent, successfully adapting to new territories and expanding their diet. Traditionally, they live in tree cavities or burrows emerging at dusk to hunt frogs and crustaceans while keeping an eye out for predators such as coyotes and foxes. Barns have aided their northern migration, offering refuge from cold northern winters, and now, raccoons have been found as far north as Alaska. The species originally kept to the deciduous and mixed forests of North America, but its impressive ability to adapt has enabled the animal to move into a wide range of habitats, from mountainous terrains to large cities. The first urban sighting was in Cincinnati during the 1920s. Raccoon populations do very well in urban areas, primarily due to hunting and trapping restrictions, a general lack of predators, and an abundance of available human food. The size of a raccoon's home range varies depending on habitat and food supply. In urban areas, its home range generally spans about one mile.
Breeding and Social Structure: The animal is nocturnal, mostly foraging and feeding at night. Though previously thought to be quite solitary, there is now evidence that the species congregates in gender-specific groups. Mating season for raccoons falls generally anytime between January and June. Most females begin reproducing around the age of one. The female has a 65-day gestation period and gives birth to two to five kits, usually in the spring. A mother usually separates from other raccoons to raise her young alone. The male does not participate in the raising of the kits. The black mask is already visible on newly-born kits. The kits stay in the den with their mother until they are between 8-10 weeks old, and will stay with their mother until they reach 13-14 months of age.
Risks: A raccoon has few predators though the animal has been known to be attacked by cougars, bobcats, and coyotes. Disease, infection, and run-ins with cars are generally the primary risks for the species. Some of their diseases, including roundworm, trichinosis and rabies, also place people and pets at risk.
Additional Facts:
The raccoon's scientific name, Procyon lotor is neo-Latin and translates to "before-dog washer."
Christopher Columbus is the first individual we know of to have written about the species.
The raccoon's taxonomy has been debated over time. Carl Linnaeus placed the raccoon in the Ursus genus—first as Ursus cauda elongate ("long-tailed bear") and then as Ursus lotor ("washer bear"). In 1780, Gottlieb Congrad Christian Storr created a separate genus for the species, Procyon, meaning doglike.
The English word "raccoon" is an adaptation of a native Powhatan word meaning "animal that scratches with its hands."
In the winter, the raccoon does not hibernate, but can sleep in its den for weeks.
A raccoon can run at speeds of up to 15 miles per hour.
The raccoon is a good swimmer and can stay in water for several hours.
The species makes a variety of vocalizations including hisses, whistles, screams, growls and snarls.
A series of studies in the mid-to-late-twentieth century show that a raccoon can remember solutions to tasks for up to 3 years.
www.pbs.org